Poetry, TX homes for sale | Real Estate
View homes for sale in Poetry, TX
Selling? Let me help: Free Market Analysis of your home
Buying? Let me search for you: Dream Home Finder
To schedule an appointment or more info:
Email me

or call

469-879-1301
Poetry Texas. The name itself self describes the tucked away locality that so many have called home.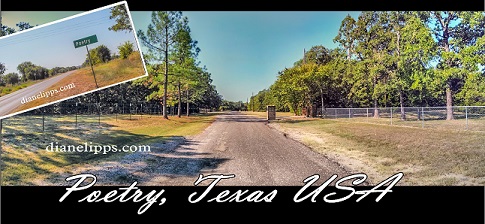 Primarily in Terrell Texas, the general area also includes Royse City and Quinlan. There are open pastures for grazing, but also what makes this area so desirable are the picturesque home settings that are engulfed with trees and nature, many with frequent deer sightings. Most of Poetry is also known for its' sandy loam soil. If you are looking for serenity, consider Poetry Texas.
Selling?
Do you own a home in the Poetry Tx area that you would like to sell or lease?
Become a featured property and take advantage of innovative marketing.
Call
(469) 879-1301
for more information.
---
Concerning the property links provided:
Information herein deemed reliable but not guaranteed. ---
Copyright: by North Texas Real Estate Info. Systems, Inc.
History of Poetry TX
POETRY, TEXAS. Poetry is at the intersection of Farm roads 986 and 1565, six miles north of Terrell in northern Kaufman County. On July 22, 1845, Elisha Turner was awarded a patent to a league and a labor of land in this area by President Anson Jones for service to the Republic of Texas.qv He settled on the old Shreveport-Dallas road at a site that eventually became known as Turner's Point. A post office and school were established in 1858. A general store, hotel, Masonic lodge, and cotton gin eventually opened in the vicinity. The development of Terrell on the Texas and Pacific Railway in 1873 prompted such Turner's Point merchants as Joe Rushing and John Stevenson to move there. Others gradually moved their businesses the short distance to the present community. In 1876 the postal service requested that the community change its name to avoid confusion with a similarly named post office. Maston Ussery, a local merchant, suggested the name Poetry because the area in springtime reminded him of a poem. The post office was moved from the Turner's Point site to the Poetry site in 1879. In 1880 the estimated population of Poetry was forty. By 1904 the population was estimated to be 234. The post office closed in 1905, when service was consolidated in Terrell. On October 27, 1924, the business district was destroyed by fire. The churches escaped the fire, however, and their presence helped preserve the community. In 1941 the population was fifty. In the 1970s new growth began after two decades of little progress. Land developers enticed many new residents to the area, which is within comfortable commuting distance from Dallas. In 1984 an attempt was made to incorporate the community. The incorporation measure passed but was later ruled invalid by the Kaufman County Commissioners Court due to technicalities. A new general store opened in 1986. Sites of historical significance include the Poetry First Baptist Church, the Poetry Methodist Church, the Cumberland Presbyterian Church and adjacent Campground Cemetery, and the Dry Creek Cemetery near the Turner's Point site. The latter cemetery contains graves of many pioneers who settled in this area. In 1990 Poetry was listed as a community but without census figures; "more than 600" people were said to live there.
*Taken from the Texas Handbook Online