Brief Overview of Lake Ray Hubbard: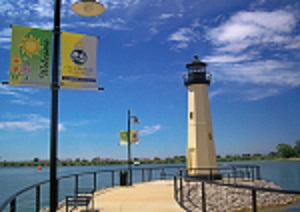 (by Diane Lipps) Lake Ray Hubbard has grown to become one of the most popular destinations for waterfront lake living and lake activities in the DFW area. If you have not checked out this amazing and growing area east of Dallas, now is the time to do so.
Renowned for the awesome sailing regattas on the south side of the lake which is a spectacle to behold, Lake Ray Hubbard residents also enjoy having phenomenal views from their lakefront or lakeview homes. With it being around 20-25 miles from downtown Dallas, people are finding out about all of the exciting things going on around this 22,745 acre body of water, with reasonable commute times to work. It is located on I30 and close access to PGBT 190 and 635 so that you can travel in reasonable times to Dallas, Plano, Richardson, Mesquite, etc.
Waterfront homes do come with a premium price, but the good news is that with many of the lakefront home sites, you are now able to build a boat dock or boat house (even a ski lift) on the leaseback area of the lake with city approval. These areas include Heath, Rockwall, Rowlett and Garland. Each city has its own criteria for approving a property's eligibility. Also make sure it is feasible to do so as well even if it is eligible. Be represented by a Lake Ray Hubbard expert if you are looking to purchase or sell who knows about the leaseback area and can direct you to information you need. Visit my page that has Lake Ray Hubbard homes for sale.
Unlike many of lakes around DFW that do not allow you to build anything on the shoreline area, Lake Ray Hubbard has become a top choice to those who really want to enjoy the benefits of living on the lake.
Lake Ray Hubbard is excellent for fishing, boating / sailing and kitesurfing. There are currently four marinas, two public boat ramps, and some scattered parks.
The shore line is a mixture of residential single family and multifamily homes plus some commercial development. The Harbor, located in Rockwall Texas, is a popular destination for locals and tourists alike. It includes a 12-screen cinema, an adjacent upscale full service hotel (The Hilton),civic center, shops, restaurants, and offices. Did someone just say ice cream? Yes, there is some tasty ice cream there to enjoy. Sometimes you can even catch some live music coming from within the Harbor. There are also public boardwalks along the shoreline, fountains, other fun water features, plazas,


pedestrian walkways and other amenities so visitors can enjoy all that The Harbor has to offer (not to mention spectacular views!.) Don't miss the summer concerts by the lighthouse that you can also attend by coming on your personal boat or bring your blanket to sit amphitheatre style.
In Rowlett, there is some major buzz going on about the new development that has already had their ground breaking event. This will be a one billion dollar development anchored by a resort that will feature a Cabo-inspired 8 acre blue lagoon. This new development goes by the name of "Bayside". Bayside is said to have plans for some residential living that features two condominium towers, upscale apartments and single family homes. In addition, there will be a resort with marina, over one million square feet of mixed-use retail, office space as well as restaurant and entertainment venues. Talk about some exciting things! *Update on Bayside: Rowlett is working hard to keep the Bayside dream alive, but right now a lot of the promised amenities are on hold. New housing is already in the works with single family homes and multifamily residences.

In Garland, Bass Pro Shops sits on the south west shore of Lake Ray Hubbard near I-30, where you can get whatever you need to enjoy lake living. Restaurants and hotel accommodations are close by.

If you have any questions about Lake Ray Hubbard, don't hesitate to email or call me at (469)879-1301